From the Longthorpe Preschool website:
"Longthorpe Preschool has been established since July 1972 and is a registered charity.  The business is managed by a voluntary management committee made up of mainly parents or carers of the children attending the preschool.
The preschool expanded in January 2013 and now consists of two preschool sites and a breakfast and afterschool club.
Our site at the Village Hall is for children from the age of 2 years and is a 'pack away' accommodation as we rent the main hall and garden from Longthorpe Village Hall in the center of Longthorpe.  It is open Tuesdays to Thursdays 09:00 – 15:00 term time only.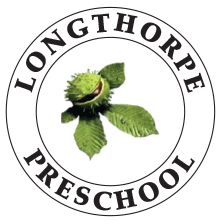 The Upper preschool opened January 2013 in new accommodation within Longthorpe Primary School and takes children for their final preschool year before starting primary school the following September.  Opening the new site has enabled us to expand our capacity and reduce our waiting list.  The Upper preschool is open Monday – Thursday 9:00 – 15:00 and Fridays 09:00 – 12.00 term time only."
For further information, please visit the Longthorpe Preschool Website.